Elegant Gothic Costume Ideas for Halloween: A Dark and Sophisticated Look
Halloween is just around the corner, and if you're craving a Halloween costume that's equal parts elegant and eerie, it's time to dive into the enchanting world of Gothic fashion! Gothic costumes offer a bewitching blend of dark romance and sophistication, making them the perfect choice for those who want to stand out in style. So, grab your cauldron, because we're brewing up some wickedly awesome Gothic costume ideas!
Gothic Dresses:
These dresses are the scream of the crop! Look for long, flowing gowns with bodices that make you feel like you just stepped out of a Gothic fairy tale.
Colours like midnight black, vampire red, witchy purple, or deep forest green are the name of the game.
Accessorise with chokers, lace gloves, and statement belts to unleash your inner Gothic goddess.
Hairstyle: For Gothic dresses, consider a hairstyle that's both elegant and slightly dishevelled to capture that enchanting, mysterious vibe.
Long, flowing curls or waves can complement the flowing gown perfectly.
You can add a subtle crown braid or a twisted updo to give your look a touch of mediaeval elegance.
Gothic Jackets:
When it comes to jackets, think Victorian-inspired tailcoats or mysterious military styles.
Choose fabrics like velvet or leather that feel as decadent as Halloween candy.
Don't forget to bedazzle your jacket with silver or pewter buttons and brooches for a dash of dark charm!
Hairstyle: Complement your Gothic jacket with a hairstyle that balances edginess and sophistication.
A sleek, low bun or a high ponytail can add a modern Gothic twist to your look.
If you prefer to wear your hair down, consider straightening it for a polished appearance.
Gothic Trousers:
Not in the mood for a dress? No worries! Gothic trousers have got your back. Look for slim-fit or wide-leg pants in deep, dark hues.
Pair them with a shirt featuring ruffles, lace, or maybe some poofy sleeves for that extra Gothic oomph.
Finish off the look with suspenders or a killer belt to slay the fashion game.
Hairstyle: When donning Gothic trousers, aim for a hairstyle that exudes confidence and flair.
Loose, voluminous waves or curls can add a touch of drama to your overall look.
Consider a side-swept hairstyle for a hint of elegance and mystery.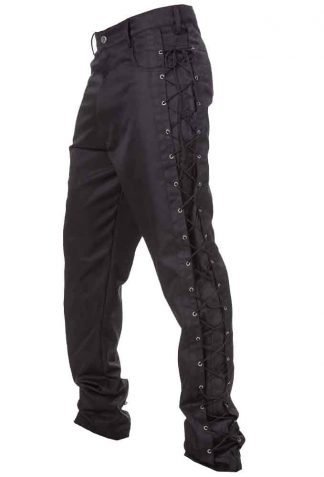 Gothic Shirts and Blouses:
These are the spook-tacular staples of Gothic fashion. High necklines, ruffles, lace, and poet sleeves are your best friends.
Mix and match with a frilly blouse and a long skirt or pants for a Victorian-inspired extravaganza.
Bling it up with brooches and vintage-style jewellery to cast a spell on your admirers.
Hairstyle: Gothic shirts and blouses often feature high necklines and intricate details, so opt for a hairstyle that complements the elegance and Victorian-inspired vibe.
Consider a classic updo, such as a bun or chignon, to show off the neckline and ruffled collar of your blouse.
Add small braids or twists to your updo for a touch of Gothic charm.
For a more casual look, loose waves or curls cascading down your shoulders can soften the high-necked blouse's appearance.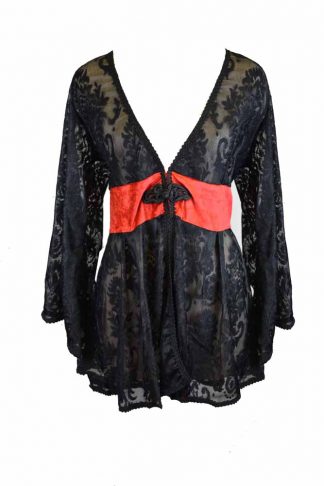 Gothic Capes:
Transform into a Gothic enchantress with a bewitching cape. Hoods are a must for that ultimate aura of mystery.
Velvet or satin capes in deep, dark shades will make you feel like you're ready to cast some serious spells.
Secure your cape with an elegant clasp or chain closure, because even vampires need to stay stylish.
Hairstyle: When wearing a Gothic cape, it's all about creating an enchanting and mysterious aura.
Sweep your hair to one side and style it in loose waves or curls for an ethereal look.
If your cape has a hood, frame your face with soft, face-framing tendrils of hair for added allure.
Consider a half-up or half-down hairstyle with braids or twists to mimic the whimsical and mystical aspects of Gothic fashion.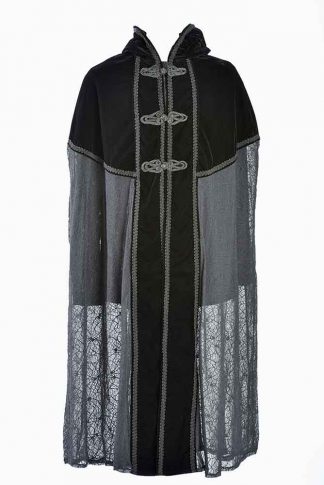 Gothic Skirts:
Skirts can be the star of your Gothic show. Long, flowing, and fabulous, or short and edgy with layered details—it's your call.
Look for skirts adorned with lace, tulle, or an asymmetrical hemline for that extra dash of drama.
Combine your skirt with a fitted bodice or corset for a silhouette that's drop-dead gorgeous.
Hairstyle: Gothic skirts can be the star of your ensemble, so choose a hairstyle that complements the drama and elegance of your outfit.
A voluminous, romantic updo like a messy bun or twisted updo can accentuate the Gothic drama of a long, flowing skirt.
For shorter, layered Gothic skirts, opt for a sleek, polished hairstyle like a straight, deep side part or a bob with structured waves.
Gothic Halloween costumes are all about unleashing your inner darkness while looking drop-dead gorgeous. These costume ideas, whether you choose a Gothic dress, jacket, trousers, shirt, blouse, cape, or skirt, are all about embracing intricate details, luxurious materials, and a colour palette that screams Gothic chic. So, get your makeup and accessories in check, and let your Gothic elegance shine this Halloween! It's time to bewitch, bedazzle, and bewilder at every spooky soirée you attend!