What do you mean by icon and symbols on telegram?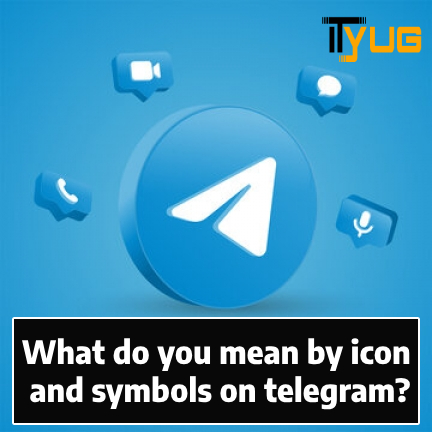 Telegram has also emerged as a very famous messaging platform and it has gained popularity as it has access to some interesting features which are not available for the users on Whatsapp application.
For example, the UI of the platform is a lot different than whatsapp and there are also various new symbols and icons. But these symbols and icons often confuse the users as they are unable to understand their meaning.
You must not worry as in this blog we will be guiding you with the exact meanings of the icons and symbols on telegram so that you are no more confused and you are well aware of the icons and symbols and you can use them whenever you want to.
Icons and symbols on DMs and groups on telegram platform 
Clock icon – You will see this icon on your screen when the message you have sent hasn't been delivered and if the icon continues to be present on the screen then it means that you have some issues with your internet.
One Green check – It indicates that your message has been sent and the recipient or recipients of the message have been informed about the same.
Two green checks – When the message has been read by the recipients you will be able to see a double green check on your message.
Eye with numbers – This shows the view counter, and the number beside the eye icon shows the number of times the message has been viewed and the eye icon will only be present in groups.
Exclamation mark (red) – This symbol telegram means that your message has not been sent hence, was not delivered and you can try sending it again.
Paper clip – You can attach any files, photos, videos, etc from your device by clicking on this icon and share it with your contact on telegram.
Emoji – It is used to add emojis to your conversation and you can also add gifs as well as stickers by tapping on this icon.
Icons and symbols on the chats screen for the telegram users 
Now, coming to the telegram icon and symbols on your chat screen, there are plenty of them which you might not understand.
Horn along with a slash – This icon is for the person who's chat has been muted by you and you will not receive notification of this chat.
Numbers next to the groups or chats – These are the numbers of messages which are unread in the group and it also contains new messages which keep on coming in the chat or group.
Pencil in a square – It is an icon for adding new contacts to your telegram and using this you can also create a new channel or a group, it might appear to you like a telegram symbol text. 
A pin – This pin icon is usually used to pin the chat or the group you want to and by pinning a chat or a group we mean that that particular group or chat will appear at the top of your chat screen and its position wouldn't change unless you unpin it.
There are many icons which you might find in the channels such as pins with three bars which will allow you to see all the announcements as well as the posts which have been uploaded by the admin in the group or in the channel.
Microphone will help you in recording a voice message so that you can send it to the person you want to. You can get to know about more icons and symbols by visiting website Ityug247 where icons and symbols along with their meanings will be present for you.
Visit: https://targetey.com/